eCommerce offers convenience and benefits: Earn 5% extra by using your Visa card on easy.com.bd
01/04/2016
Easy.com in partnership with Visa, the global leader in payments, brings an exciting rewards offer to Visa Credit and Debit cardholders in Bangladesh. Under the offer, Visa cardholders will be rewarded additional 5% credit for all transactions made on www.easy.com.bd till 31st March, 2016 1.
Easy, Bangladesh's first online prepaid and postpaid airtime recharging/payment service for mobile and internet users brings to consumers the convenience of online payments for mobile recharges, mobile bill pay and mobile.
According to Mr. T. R. Ramachandran, Group Country Manager India and South Asia, Visa, "Visa is pleased to partner with Easy for the second consecutive year as we witness an evolving electronic payments ecosystem in Bangladesh in the mobile bill payment category. Acceptance of electronic payments contributes to the growth of e commerce, reducing friction in the economy and providing consumers fast, secure and convenient option to make payments online."
With the objective of reaching the masses with eCommerce services in Bangladesh, Mr. Ashish Chakraborty, the General Manager of SSL Wireless said, "SSL has always been a driver of change and innovation in IT enabled service sector in Bangladesh specially for the progression of e-commerce and today we feel proud to be associated with Visa, for launching this awareness campaign for our online mobile recharge site easy.com.bd."
Easy.com.bd is a marketplace for digital services and offers its customers the convenience of making online payments across all leading Telecom Operators and Internet Service Providers including Grameenphone, Robi Axiata, Airtel, Banglalink, Qubee and Banglalion.
eCommerce is changing the way people shop, breaking down geographic barriers and providing access to products and services from around the world at the click of a button. eCommerce has extended beyond shopping, and includes utility bill payments like electricity, telephone, gas, payment of government subsidies, grocery shopping, school fees and much more.
Visa's Verified by Visa service makes paying for your online shopping, bills and services using a Visa card extremely simple, secure and convenient. Verified by Visa is an online service designed to make internet
transactions safer by authenticating the cardholder's identity at the time of purchase. Verified by Visa is one of several layers of security provided for online purchases.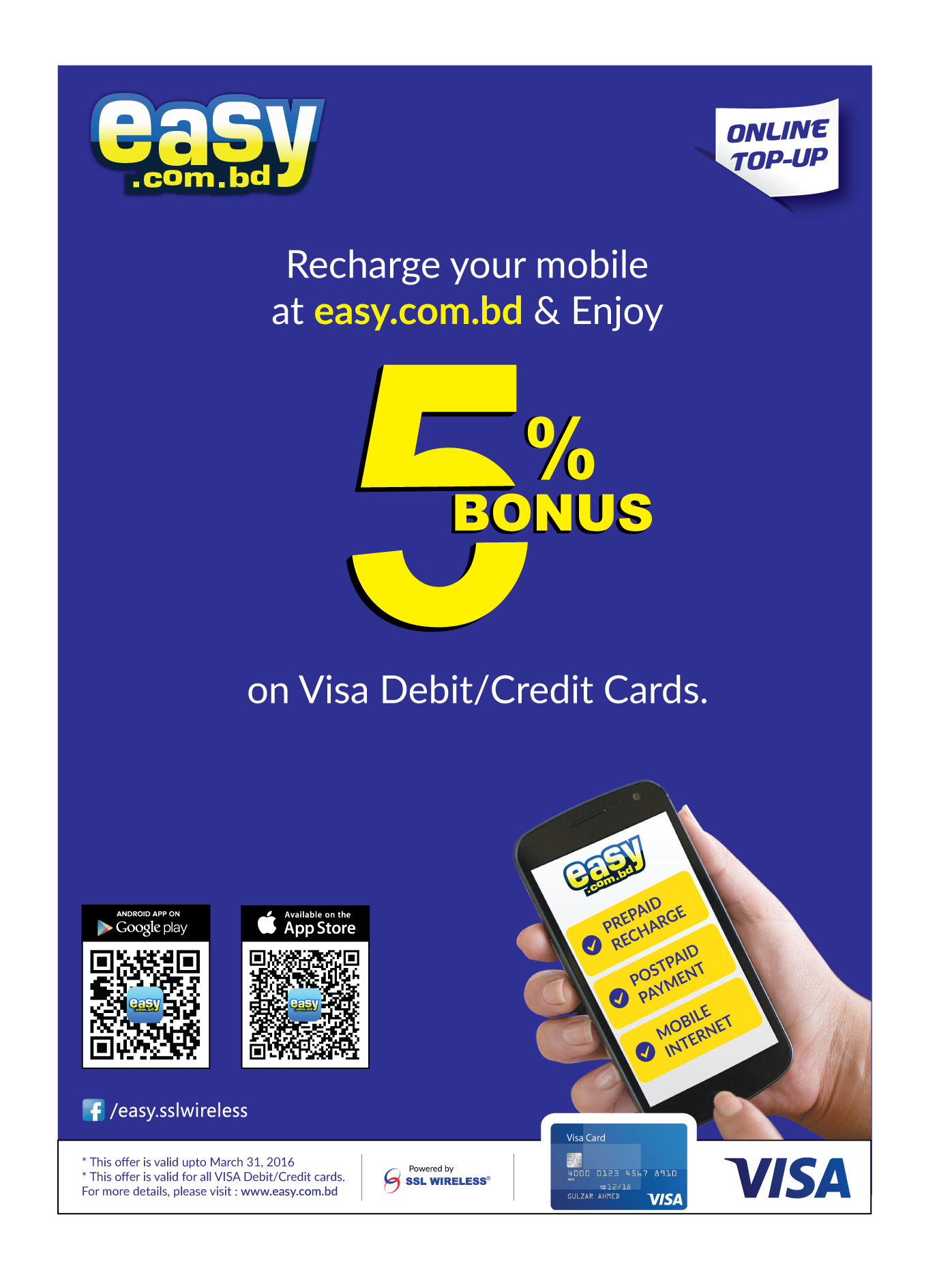 1 Terms and conditions apply. Please visit www.easy.com.bd for more information
About Visa
Visa is a global payments technology company that connects consumers, businesses, financial institutions, and governments in more than 200 countries and territories to fast, secure and reliable electronic payments. We operate one of the world's most advanced processing networks — VisaNet — that is capable of handling more than 65,000 transaction messages a second, with fraud protection for consumers and assured payment for merchants. Visa is not a bank and does not issue cards, extend credit or set rates and fees for consumers. Visa's innovations, however, enable its financial institution customers to offer consumers more choices: pay now with debit, ahead of time with prepaid or later with credit products.